High Voltage Water has won the 2014 Water Innovator of the Year award. This prestigious award recognises the developer of the most ground breaking technology, product or service in the water sector.
High Voltage Water won with its pioneering work to incorporate innovative electrospray technology into multi effect distillation (MED) systems. This has the potential to significantly reduce energy use and capital expenditure in desalination facilities. In doing so, it could significantly impact water use around the world and improve access to fresh water where it is most needed.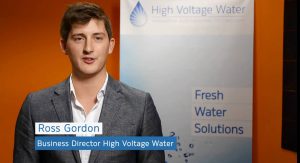 Watervisie congress
The award was decided at the Watervisie congress in Rotterdam by a combination of jury and public votes. The expert jury, led by Prof.dr.ir. Cees Buisman of the Wetsus institute, was unanimous in its decision to choose High Voltage water as the 2014 winner. The online poll also was also won by High Voltage water, which beat its nearest rival by 89 votes.
This was the third time that the Water Innovator of the Year award has taken place. The award is organised by Watervisie, an independent group comprised of experts, suppliers and customers in the water industry.
For more information, please visit www.highvoltagewater.com