CircInWater is a 36 months European project (2022-2025) funded by the European Innovation Council and SMEs Executive Agency (EISMEA) through Joint Cluster Initiatives (EUROCLUSTERS) for Europe's recovery (SMP-COSME-2021-CLUSTER) to boost the triple transitions and development of water-smart solutions on the agrifood and energy-intensive industries.
Objectives
CircInWater answers the need to support the European industry to be greener, more digital, and more resilient, tackling the water challenges of consumption and pollution and contributing to Europe's economic sovereignty. Therefore, CircInWater aims to accelerate the triple transitions by supporting SMEs to develop and implement water-smart solutions as part of their transition pathways.
Connect SMEs along the water value chain across key industrial ecosystems to enhance their resiliency and ability to cope with future shock and crisis.
Boost SME's innovation in terms of products and tools to build water-smart industries.
Improve the collaborative and innovation capacity of SMEs via a bespoke "Joint portfolio of training services".
Foster the adoption of processes and technologies to reinforce transformation into a greener and more digital economy.
Speed up SMEs' internationalisation through the establishment of key support services.
Maximise the communication impact towards key industrial ecosystems and SMEs.
Define a sustainable long-term strategy that ensures the EUROCULSTER continuity and its strong impacts on the resilient transformation of the European SMEs.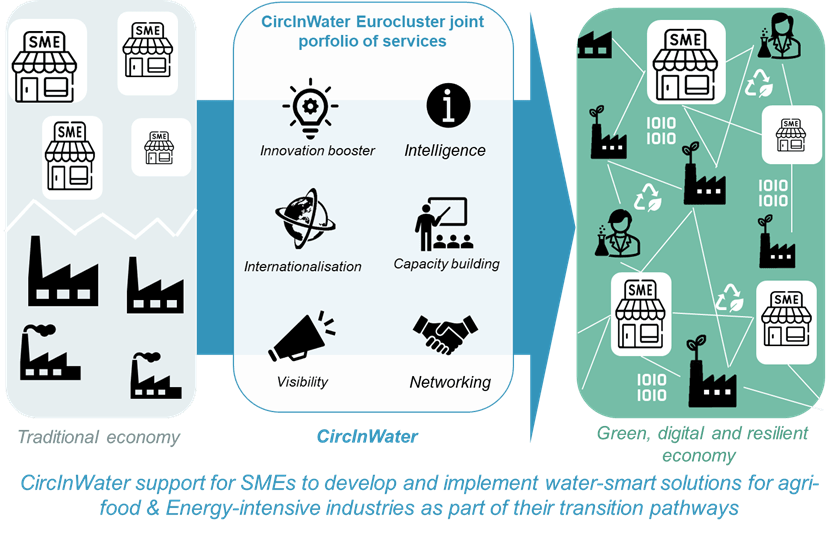 Focus on financial support for EU SMEs
The main component of the project is the financial support provided by the project within which €1,050,000 is available to European SMEs, which can be used for the development of water solutions within the agrifood and energy-intensive sectors (pulp&paper, mining, steel, chemicals). Financial support can be obtained for the following three different components:
Innovation,
Knowledge/external expertise
Internationalization
In total, a company can receive up to €60,000 financial support from this project. It is also possible to receive financial support for more than one of the above components up to a maximum of €60,000 per SME.
How can I make use of this as a Dutch watertech company?
The financial support for the innovation component will open from the end of March 2023. This means that SME parties can submit applications for a project idea from this opening.
The main criteria to be met are:
It must involve activities related to scale-up, pilot, testing, demonstration, product development (TRL 5-9)
Project must be related to agrifood or energy intensive sectors (pulp&paper, mining, steel, chemical)
Can be a national or international project, with or without partners
Only SME parties can receive funding.
CircInWater will accelerate the transformation of the industries with the highest water footprint by:
Acting as an innovation booster for SMEs offering water-smart solutions
Providing intelligence on the challenges, needs and market opportunities
Connecting end-users with water-smart solution providers while fostering the synergies across value chains to develop strong interlinkages
Strengthening capacity building of SMEs
Boosting access to global supply and value chains
Promoting and disseminating the water-smart innovations widely.
Role of Water Alliance
Water Alliance wants to maximize the available resources from this project for the Dutch water technology sector. This so that Dutch SME parties can make optimal use of the (financial) opportunities from the project. Water Alliance will therefore communicate the opportunities broadly and proactively to the Dutch water technology sector.
Project information:
Project period: 2022-2025
Budget: €1,442,360, of which €1,050,000 is available for SMEs
Partners:
ZINNAE (Spain)
Blue Economy Mikkeli (Finland)
Water Cluster Finland (Finland)
France Water Team (France)
CREA Hydro&Energy (Czech Republic)
Innovation centre of the Olomouc Region ((Czech Republic)
Questions or interested in the project?
Please contact Stefan Bergsma at s.bergsma@wateralliance.nl or +31(0)611101240 or Rixt Sinnema at r.sinnema@wateralliance.nl or +31(0)612884530
For the latest news, you can follow the project developments on LinkedIn