Co-hosted by Water Alliance, Netherlands Water Partnership, Consulate General of the Netherlands in Chicago
Aging water infrastructure affects a lot of countries all around the world, also the Netherlands. The Dutch have developed several smart solutions for example for leak detection, reduction of non-revenue water (NRW) and asset management. This session will showcase several of these innovative Dutch solutions.
Furthermore, we will share a glimpse of the Dutch water sector and Dutch-American and European collaboration opportunities. One of these opportunities is the EU Techbridge project. Within this project, innovative European companies will be matched with end-users from USA who are looking for innovative solutions for their energy or water challenges and innovation needs.
Who should attend?
Decisionmakers in the US water sector – public and private
Asset and infrastructure managers in US water utilities
Technology and innovation developers
Municipal, State and Federal officials in fields of water, environment, public health and urban planning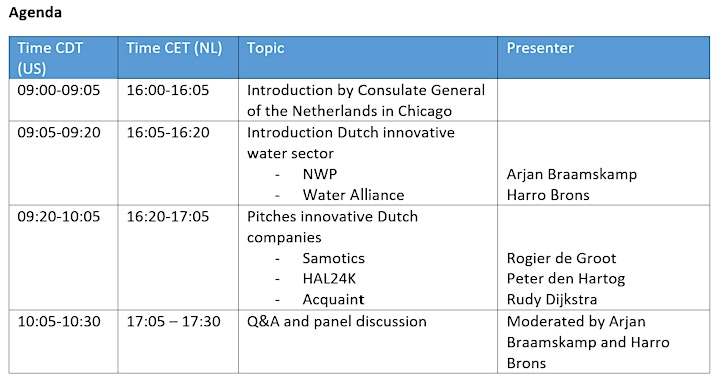 For questions pertaining to this specific event, please email s.bergsma@wateralliance.nl.
Registration
To attend this webinar, please register on the Eventbrite site.