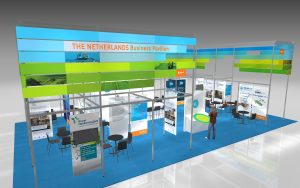 The Water Alliance invites you to take this opportunity and meet some of the finest Dutch water technology companies present during WEFTEC 2015 in Chicago, IL. The WEFTEC is the largest annual water quality exhibition in North America and provides access to the field's most cutting-edge technologies and services.
You will find The Holland Business Pavilion at Booth# 1472. The Pavilion host companies like DMT; GENAP; LG Sonic; Nedap; RoyalhaskoningDHV; Sustec, United Pipeline Products and the Water Campus Leeuwarden.
Also unique part of the pavilion is the Holland Innovation Hotspot where 6 innovative Dutch technologies are highlighted. Innovations from Dutch companies as Elemental Water Makers; Hydrowashr; Brightwork; BlueLegMonitor; WETSUS and Berghof Membrane Technology, all represented by the Water Alliance. Over the exhibition floor you will find even more Dutch water technology companies. Interested in meeting them all in one single stop? Most likely they will all be there during our network reception on Tuesday September 29th 4:00-6:00 pm. Visitors of the WEFTEC are welcome to join: register here.
6 Dutch Innovation Hotspots: