In less than 2 months the European Water Tech Week will begin on Monday september 24. In the coming weeks we will highlight some of the things you can expect at the EWTW 2018!
On Monday the kickoff off EWTW will take place at City Theatre De Harmonie. This first EWTW day offers a program aimed at business, policy, science and international collaboration. Tuesday September 25, day two of the Wetsus Congress, is traditionally mostly about science, but this year also multiple sessions about applied research, business and water technology hubs are added.
The third day of the European Water Technology Week is dedicated to business and international cooperation. With over 15 different parralel sessions and over 30 speakers from around te globe the program on Wednesday is packed with interesting and inspiring lectures, presentations and sessions.
Next tot he parralel sessions there is a exhibition floor and a full neworking program!
Highlights:
On-stage discussion: how water hubs provide business opportunities

Chair: Andrew Walker, International marketing strategist & public speaker
Special guest: Henk Ovink, Special Envoy for International Water Affairs at Kingdom of the Netherlands
The global water technology sector is increasingly organized in hubs. The European Water Tech Week Leeuwarden 2018 connects these Global Hubs in Leeuwarden this week. Several leaders from Global Water clusters will highlight their vision on being part of a Water Hub.
We will have a moderated on-stage discussion between the waterhubs and the audience. This discussion will focus on how water hubs provide business opportunities for their partners and how partners from other water hubs can benefit.
WIS Award Final

The yearly WIS Award organised bij Water Alliance show some great examples of new innovations. After the pitches of the WIS innovations the floor is to some important leaders of Global Water Hubs, where they will explain their role. They will discuss the possibilities of working together and strengthen the ties between countries in order to find solutions.
Several water leaders from Global Water Hubs are expected to give their vision, for instance from Israel, South Korea, USA, Singapore and more. For more information about the WIS award and the nominees, click here. 
Parrallel sessions: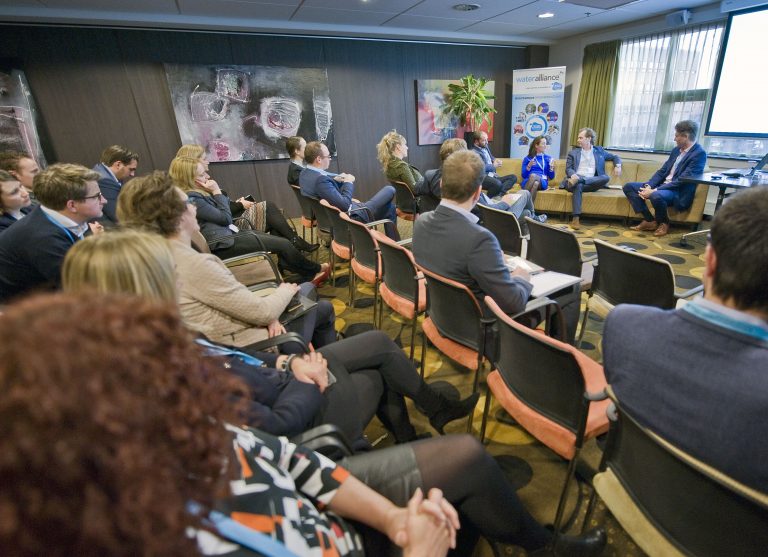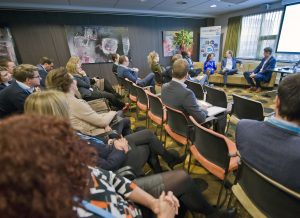 Resource Recovery as a contribution of the water sector in a Circular Economy
Historically Wastewater Treatment Plants (WWTP) primarily processed wastewater allowing it to be safely discharged into the surface water. Next to this primary task, modern WWTP are able to harvest valuable components e.g. Energy/Biogas, Nutrients, Cellulose, Polymers, Metals, etc.
In this session we will discuss how these developments can contribute to a circular economy. More info.
Combatting algae blooms: how can technology and a 10 M$ prize help?
Phosphorus is an important nutrient necessary to sustain a high food production for a growing world population. However, sources of phosphate rock are finite and much of the phosphorus ends up in our surface water. There it is the main cause for eutrophication and (toxic) algae blooms. Severe algae blooms are experienced all around the globe, most notably in the Great Lakes in the United States, Florida, the Yellow Sea in China and the Baltic Sea in Europe. To combat this, phosphorus needs be removed to very low concentrations at a reasonable cost.
The Everglades Foundation has taken up this challenge and has commissioned a 10 M$ prize contest to find technologies that can contribute to solve this challenge. They have set challenging goals for the technology and currently nine participants have tested their technologies in a 3 month pilot stage in Canada.
In this session we discuss the background and the reasons for this challenge as well as the progress that has been made so far. Together with the participants in the session we can discuss how such technologies could be applied in actual applications. More info
Challenges for membrane filtration in the water market
In water treatment processes the dominant membrane processes are reverse osmosis (desalination) and ultrafiltration (pre-treatment RO, disinfection), but there is also an upcoming market for hollow filtration nanofiltration membranes that do retain low molecular weight dissolved organics (e.g. compounds of emerging concern) but allow ion-transport, i.e. salt(s) passing the membrane in order to avoid high osmotic pressure. Existing reversed osmosis (RO) membranes can remove both salts and organics, but high energy consumption is hampering this process in many applications. And in potable water applications e.g., one need to (re) mineralize the RO permeate in order to get the correct water quality. Also the generated high saline concentrate stream is expensive to treat.
In this session we want to focus on new developments in the water treatment markets, with a focus on the compounds of emerging concern using existing or new membrane filtration processes. More info.
WaterMatch

Boost your international activities and meet potential business partners from across Europe at WaterMatch 2018. WaterMatch is organised by the Water Alliance in cooperation with the Enterprise Europe Network.
During pre selected 20 minute meetings participants will investigate mutual interests and discuss potential collaboration. WaterMatch will focus on B2B, B2R&D and R&D2R&D meetings. The participants represent not only companies but also universities
Click here to register for WaterMatch.
This is just a summary of some of the highlights of the European Water Technology Week. Check the full program here!